About the Golden Backpack Program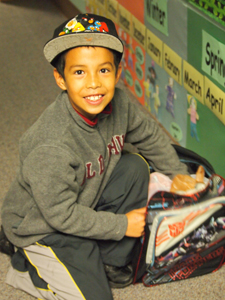 Currently there are over 1,100 students in Golden who are enrolled in the free and/or reduced lunch program at their school. For many of these students, these lunches serve as their main source of nourishment throughout the week. Weekends are often a painful time with little or no nourishment available.
The Golden Backpack Program (GBP) helps feed students in need by providing a backpack full of enough food to feed a child for the entire weekend. Currently, the GBP provides assistance to over 500 students in eight local schools, including Mitchell Elementary, Shelton Elementary, Pleasant View Elementary, Welchester Elementary, Kyffin Elementary, Connections Learning Center, Bell Middle School and Golden High School.
Peggy Halderman of the Golden Rotary Club started the program in 2008. What started as a small program feeding 65 students has grown into a community effort involving partnerships with the Food Bank of the Rockies and the Developmental Disabilities Resource Center.