The Golden Backpack Program
The Golden Backpack Program is a 501(c)(3) non-profit founded in 2008 and dedicated to providing food to underserved children in Golden, Colorado. We accomplish this by raising money to purchase food for distribution through our three programs: Weekend Sack Program, Summer Lunch Program, and Fresh Food Co-op. Our impact to date:
I've been working with Golden Backpack for nearly a year - a year of transformation and growth.  Change is not always easy and can feel disruptive. Through it all, though, leadership and the volunteer team never lose sight of their main mission to provide meals to kids and families in Golden who might otherwise go without.
Debi
Owner, 3D Communications
I began with the Golden Backpack Program handing out the weekend sacks to middle school families and felt some connection to those I was helping by being a part of the program. I have switched roles and began working for the Fresh Food Co-op the last few years. It pleases me to know that I am making a difference in the lives of those living in my community. I have met some wonderful, interesting  people, whom I wouldn't know otherwise. I have thoroughly enjoyed my experience working with the Fresh Food Co-op.
Cynthia
Fresh Food Co-op Volunteer
I started volunteering at the Fresh Food Co-op about 6 months ago and it has been a really great experience for me. It's a good feeling to know that the time I put into the program is actually helping the program succeed. The program is doing a lot of good for our community in Golden. It's pretty cool to see all of the food that comes in every couple of days and how many people in our community it can feed. I've loved my experience volunteering here and I will definitely continue doing it through my time in high school.
Emily
Volunteer, GHS Student
Bob's Atomic Burgers held their first fund raiser for the Golden Backpack Program in May of 2013. Owners Jen and Bob Toohill learned about the GBP program from their daughter's elementary school. They felt strongly about helping feed the hungry children in Golden. The Snack-n-Wagon had just launched and they loved being a part of it. Bob's participates in many fund raisers throughout the year and they donate a percentage of their total daily sales to the organization. However, their fund raiser for the GBP they consider the most important and donate their largest percentage of sales. Bob's will continue with their annual fund raiser every May for GBP to help support the Snack-n-Wagon program.
Jen
Owner, Bob's Atomic Burgers
I chose to volunteer at the Fresh Food Co-op because I love what it stands for. Unfortunately, not all familes are financially stable, meaning that some children might not get enough food throughout the day. As a student, I couldn't even begin to imagine trying to learn on an empty stomach. I love the fact that the Co-op is helping to feed these hungry tummies, and overall bettering the Golden community. All of the volunteers at the Co-op are super friendly and caring, and their enthusiasm makes it obvious they love being there. Overall, it is a great experience, and I look forward to volunteering there every chance that I get!
Brittany
Volunteer, GHS Student
I was first drawn to the Fresh Food Co-op as a place to connect with this new community my family and I would now call home.  I quickly met a wonderful group of volunteers who create such a fun and caring environment to be in week after week. Over time, I have come to understand what a large need there is for food access in the Golden area and just how big a role the GBP plays in helping to close that gap. Knowing the GBP is impacting so many families in such a positive way fills me up! Programs like this are making a difference in how we can get out and support one another and I love being a part of it.
Food is like gas, and it feeds you so you can keep going. Without food, we get all tired and stuff.
Having been out of the workforce for almost 12 years, I was devastated when I found myself to be a single parent of seven children, and sharing 50% of the responsibilities of an infant grandson. I had no idea how i was going to be able to feed, house and cloth those children. Thankfully, the parent liaison from my childrens' elementary school referred me to The Fresh Food Co-op. I was a little apprehensive about using another food pantry due to feeling like a burden at other local pantries. It was so nice to feel at home going to The Fresh Food Co-op, and seeing other parents from my childrens' school. The registration process took just minutes, and the shopping experience was amazing. It was nice to see my children and my community having fresh fruit and vegetable choices that families like mine may not have otherwise. Thank you, Fresh Food Co-op!
Nicol
Fresh Food Co-op Shopper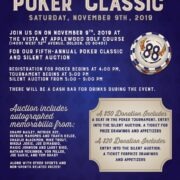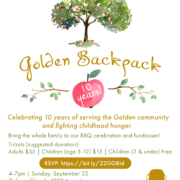 Invitations have been sent, but if you didn't get yours and you want to come
The Golden Backpack Program was founded by Peggy Halderman in 2008, and is still GOING